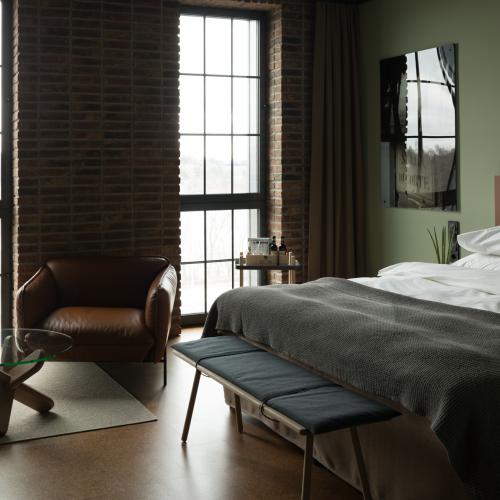 Wine, Dine & Sleep
Enjoy a gastronomic weekend that introduces you to the enchanting world of The Winery Hotel!
With this package you get to learn how a wine is made during a guided tour in the winery and challenge your senses with a wine tasting led by one of our sommeliers. After that you enjoy a four-course dinner with accompanying wines in Winery Kitchen*.

The package is valid Thursdays, Fridays and Saturdays until the end of 2019. During September, both the wine tastings and the meals will be adjusted based on the year's major event at The Winery Hotel - the harvest.

Pre-order your dinner table Online when you book the package. Then you are guaranteed a seat in the restaurant at a time that suits you.
*About Winery Kitchen: Here the food is created according to the flavors of the wine and the match is perfect. Last year, Winery Kitchen was nominated The Drinking Experience of the Year in the prestigious restaurant guide White Guide.

Our wine, dine & SLEEP package includes:
An overnight stay
A guided tour of our winery
A sommelier led wine tasting
A four-course dinner of your choice, including a wine package. (The four-course dinner and wine package is included for adults only, children order and pay at the hotel). Vegetarian option available.
Breakfast buffet
Free parking
WiFi
Free access to our gym and outside pool on the rooftop
NB: On February 23, 2019, the wine tasting is replaced with entry and taste tickets to our wine fair Festa del Chianti Classico.
During the summer period July 8th until August 4th 2019 the restaurant Winery Kitchen is closed. Therefore the dinner is served in our other restaurant Terreno Deli in this period.